Arborek, The Raja Ampat Popular Touristic Village
After our last trip to Wayag Viewpoint and after we spent a night there (read full story here), we left Wayag behind and stop by at Arborek Village, Raja Ampat. This village located in an island with the same name, the Arborek Island. The island is still at Meos Mansar Region. I was so stunned by the number of tourists here and also of how clean the village was (well, it is uncommon to have clean village or city in Papua, we have such a big problem with the waste management).
We came there with a rented boat so that we were able to travel around. Nevertheless, there is transportation (long boat) to Arborek from Waisai, in fact I have read that even the transportation to Arborek from Sorong is available. We pulled in at around 3 pm after our one last daytime dive in Raja Ampat. Arborek is so magnificent. White sand beach, crystal blue water alike the clear blue sky, what a view…
This village is one of the villages which is currently in development to be an ecotourism destination in Raja Ampat District. Various handicrafts are made here by the local people. Men are chiseling some kind of typical papuan statues or replicas (there was a replica of a traditional boat welcoming us in the entrance to the village). While women are weaving the handicrafts such as hat, mat and so on. Those crafts are sold with an affordable price as souvenirs. This is how they are earning money, keep the place clean to attract tourists and live from that. A form of tourism directed towards exotic natural environments, intended to support conservation efforts.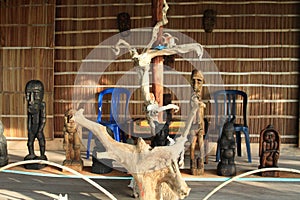 It is not surprising why there are lots of tourists coming and perpetuating the atmosphere in photography and tagging it as one of the must seen destination in Raja Ampat on their travel blog. In my opinion, the existence of Arborek is like a cultural museum of Raja Ampat, Papua. I was so impressed with the development and how gracious and friendly the people are.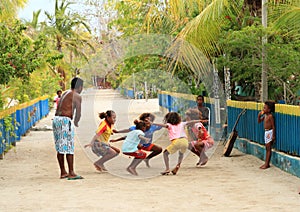 Arborek is not so big, by foot you will be able to go around to every single corner of the village. At that moment I was horribly starving, the food we had from Waisai was almost done (we had just some vegetables as 'salad gonna be' for dinner). So we went around looking for restaurants or food stalls, there was none of them. On the way, we had the opportunity to watch a dancing group consists of kids practicing their traditional dance. How they waved their hands and tiptoed their feet gave me such an imagination of birds. It was really amazing. The whole circumstances were like a magnet pulling tourists in, how they live their life, the beauty of the environment, the smile on their face and the greeting they said to foreigners. They are soo friendly, no mistrust or prejudice, which is really rare found at the big cities.
You need to know that even though Arborek is a touristic area, there was no place that provide food for lunch or so (at least we didn't find any in the beginning of 2016). So if you want to spend a long time in Arborek, make sure that you have your lunch or some food with you, which you could buy in Sorong or Waisai, just in case. In the end we found a small kiosk selling coconut and (as food was just) instant noodles. It was okay for me, I was happy that at least 😀 I could eat something. Then be my late lunch at around thirty to four.
Other things you could do here in Arborek are snorkeling, diving, or just sailing around the island by renting the boat from the locals. In the evening we were relaxing on the dock of Arborek which they called as jetty. Later on, I went to the water to go snorkeling, the water was so crystal clear with some school of fishes. Unfortunately, there were lots of jellyfishes which gave me such a burning-pain. I felt a sharp sting or like itchy all over my body. Finally, I went back to the surface, sat on jetty and enjoying the gentle wind as well as the sunset going down to the sea, calling on the night to replace the light.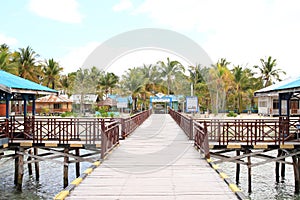 We planned to stay for a night in Arborek and would sail back to Waisai in the morning. That evening we bought a big fresh fish caught by the locals, and the locals were so kind offering to grill the fish for us. We spent the time together, talking, grilling with them on their bench near by the beach, and enjoying the fresh fish from Arborek sea. That night we stayed at the jetty and I was woken up several times at night by the cold wind (yes it was cold, night in the tropics 😀 hahaa). Actually, there were several bungalows and resorts, they were just too expensive (for a night) or fully booked. So we decided not to stay there. In fact, there was a part of the jetty with roof where we were allowed to stay for a night (more, for free) and we were so lucky to have it, I mean just if there would be raining at night.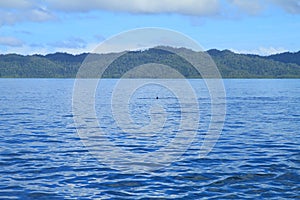 We woke up a bit earlier in the morning because we had to make the 'temporary' bed we had on jetty. That day, some group of guests were coming to the village and the locals didn't want that the guests would see us still sleeping by the entrance to the village. So we packed our things and sailed back to Waisai. On our way back, we met a group of manta rays at a diving spot called Manta point. In the morning they are feeding and swimming with the current. We were so lucky! For sure we stopped by and jumped to the water to snorkel with them. The current was a bit strong and unable us to snorkel properly, but it was worth it. They are so beautiful and the high visibility of the water enable us to see properly underwater. There were a bunch of divers as well. It was another memorable experience I had.
Have you ever been to Arborek Village? How do you like it there? Let me know on the comment section below. If you had never been there, you could take this destination to your consideration. Have a nice journey, get lost and hope you find the new you along the journey!