Nabire, Whale Shark's Playground
Whale shark? What is it? Is it a whale or a shark? Or is it a pup from the crossbreeding between whale and shark? Those questions would probably popped up inside your head if you didn't know what is it whale shark. Actually, whale shark is a species of shark and it's labeled as the largest known extant fish species. Therefore, it's named as whale shark because this shark is really huge (could reach 10m long even more).
To snorkel or to dive with them had been my big dream since I was still at the university. I was majoring Aquatic Resources Management and my love for the ocean life was even getting bigger by the time I was learning it. The biggest problem as a student was the cost, it was horribly expensive. This time I traveled in group, so it was cheaper and also fun with more friends.
We went to Nabire, Papua, Indonesia from Sorong by ship. The tickets was sold out due to a big yearly celebration in Manokwari and lots of people were traveling there. But in the end we got on to another ship, so our journey by the ship was like Sorong – Manokwari – Wasior – Nabire. The ship was again full with people and we didn't get any place to sleep. We found a place outside and decided to sleep there because inside was too crowded and was too difficult to breath. The ship was also full of drunk people, even a drunk officer from PELNI (the Indonesian national company for ships) came by and told us some bu****it. He said that we had to pay him, we couldn't travel by this ship, and just all nonsense things, and even provoked us to fight. It was intense, but with some help from other people there it was solved.
The rain came at night, the wind blew so strong, the ship was tilting to the right then to the left, and we had such a wet floor. My goodness! It was really challenging. When I had to face this situation, I remembered my home. A place where I have warm mattress, warm food and drink. It's just sometime good to be away from home, to understand how amazing it is to have a place we call as home, to respect how fantastic to live in a warm comfortable home we have.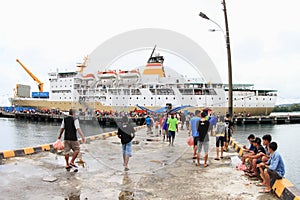 When we arrived in Manokwari, the ship was much more spacious. There was more room to move and we got place to sleep. At least for the second night we didn't have to be under the rain and get wet. As I said before, the ship stopped by in a town called Wasior. They say that in Wasior we could buy traditional food by the harbor and it is said that the food is delicious. So we alternately went off the ship and proved all the rumors. What an extraordinary dinner we had that evening, fishes, tubers and cooked vegetables. Then we fell a sleep after that, this time fortunately on mattress, warm and dry. In the early morning we arrived in Nabire, we rented a car and went to a friend house. My best friend back when we were at the university 🙂
Another long journey awaited in front of us. The sun was slowly rising and showed the elegant light as we entered the urban area. The interesting monument in the shape of a green man in traditional clothes was welcoming us and we were ready to wander Nabire. We still needed to find the service that would provide the transportation to the whale shark's playground as well as the diving equipment. We were looking for that all around the city and finally found out a good price we liked. We went with Kali Lemon Dive Resort, one of the best service available at that moment. Then the next day we departed. That afternoon with a little bit time we had, we were wandering around the city.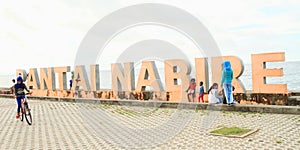 There were fruit sellers next by the Nabire Beach (Pantai Nabire) and we bought some delicious fruits stocks for the trip. It's just really lucky to live by the sea with the tropical fruits around, there is not so many people who are lucky enough to savor this kind of experience without flying hours and hours of traveling.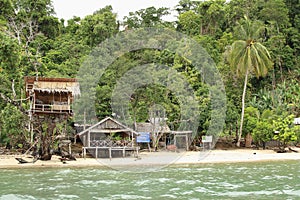 We had to reach out to Kwatisore from Nabire, the pick up service by boat from the resort was held from a small village which I've forgotten the name already. We left in the early morning by a rent car. It was kinda cold in the morning, the second morning in Nabire. We were on the pickup truck, a bit chilled and be silent enjoying the fresh air in the calm morning, then the rain came again. As if the misery couldn't end, we got lost in the middle of no where because the driver didn't know exactly where was the village. We couldn't ask the informant because there was no phone signal. We stopped because we couldn't drive any longer due to the broken road, actually the bridge that connect to the other side was still under construction.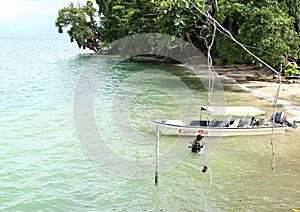 We drove too far and missed the entrance to the village from where they should pick us up. So we drove back about 15-30 minutes, however we finally found the village. The boat was waiting for us, we were late, but then we departed. The wave was horribly big, the water came in to the boat and most of us were wet. The weather was bad, it was cold, raining and cloudy, cutting down the hope to see the whale shark. When we arrived at the resort, warm breakfast was waiting for us. We took our breakfast, warmed up a bit, and prepared our equipment to dive with the whale shark.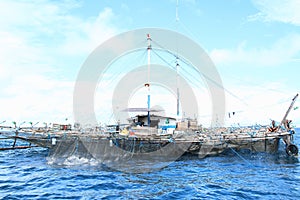 The weather was getting better and we sailed to a fish catching instrument called bagan. Bagan is a located on the sea which classified as Boat Lift Net or Floating Lift Net, it is a place where whale sharks are usually feeding or lets say that it's a whale shark's playground. My heart was beating rapidly as if that was the only sound I could hear at that moment. Happy, nervous, worry, excited, I really have no idea what was that. I was a bit worried that I couldn't see this unique kind of shark (local people called them as Gorano Bintang), the largest known extant fish species. Then, when we arrived and parked our boat next by it, a huge monster big silhouette with white dots swam under the boat. Geezzz, my blood was like going down to my feet, it was so huge. A monster fish, I was even thinking to cancel my dive. The silhouette went to the surface, opened her big mouth and sucked in all the water to filter the small bait fishes.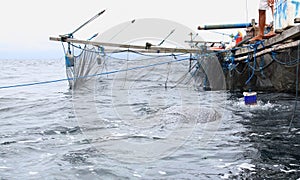 Indescribable feeling was lunging my body, now I understand why it's known as the largest fish species exists. The adrenaline was flowing through my vein, pumping up the satisfaction or probably anxiety. I don't know why and how, I jumped to the water and snorkeled with them. We were snorkeling, circling the shark and then another one showed up. So we went up to the boat and get ready to dive with them.
It was my first experience to dive in this situation. We were just diving in the blue water and I couldn't sea the bottom nor other things that I could use to maintain my depth. I was in a certain depth and in a minute I was already 10m deeper than before. That was odd for me and difficult, I was afraid also. They said that the depth in this place is about 50-60 meters, even more. The guide was diving with us to supervise the divers, in case that the divers floated off with the current.
Whale shark, checked…. Another mark on my 'must seen places before I die' list. That was so fantastic, gorano bintang is such a remarkable creature. The arrogant chic swam in front of me, near by me, as if it showing of her beauty. I don't understand those people who are killing them just for money, they are too remarkable to end up as a soup on a bowl. I mean, money comes and go right? But if they went extinct, would we will be able to bring them back to existence? Well I don't think so, at least based on human technology now a days. The more I travel, the more I recognize that life wouldn't be so nice without other creature, without the diversity, without the difference. As a human being, we need it.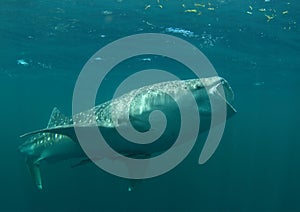 This kind of shark are filter feeders, we don't have to be afraid of them. They are filtering their food and separate the food from the water they sucked in before. Feeding occurs either by ram filtration, in which the animal opens its mouth and swims forward, pushing water and food into the mouth, or by active suction feeding, in which the animal opens and closes its mouth, sucking in volumes of water that are then expelled through the gills. In both cases, the filter pads serve to separate food from water (wikipedia). I witnessed how they performed their feeding behavior, a bit creepy in the beginning. They sucked a lot of water by opening their mouth, that was unbelievably shocking for me yet also marvelous.
After diving and taking lots of pictures of this good-looking fish, we decided to dive in another popular diving spot in Kwatisore. We saw some lobsters and corals, not much compare to those in Raja Ampat but It was a nice dive. Afterwards we came back by boat to the same village where we were before and continued by car to Nabire. And again it was raining. We arrived in the evening, have a rest and enough sleep because in the next morning we left the city.
Those experiences are unforgettable, especially those that made me suffer a bit. Those remind me of home, where I have all need, warmth, comfort and love. Those inconveniences I went through when travel, made me love my home even more. Sometimes we just need to go out from our comfort zone to taste reality and live a real life.