Hunting sharks in Raja Ampat
On the ship we operationally changed the diving location. On the originally planned seemed to be little fish while the nearby locality had plenty of them. Then, when I looked up from the bottom of the sea toward the surface, thru the fishes was barely seen the sky. And the change of location was not great only because of the quantity of fish.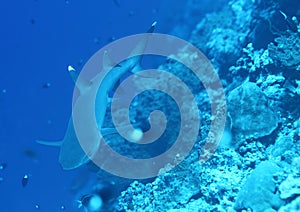 We sailed along the coral reefs and from the darkness of water, directly against us, appeared a shark (whitetip reef shark) and by the graceful arc disappeared again. We continued swimming in a gentle current, and I lost interest in everything else. Will the shark appear again? He did! And he was not alone. There were two. Again, however, only showed themselves and sailed away.
The current changed and with it we turned to the other direction. I was losing hope that the two sharks will return. Sharks surprised me – emerged behind us and in a few graceful movements showed us the rear fins.
Few minutes later I was alone with my guide. The silence disturbed only by the bubbles from our automatics. We were no hurry, just looking … and waiting. We cruised around the schools of fish, which we did not pay much attention. Then it happened.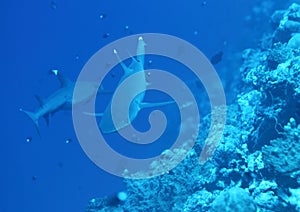 "Drum!" Deafening sound as fast drums cut through the water. That all the fish in a single moment changed their direction. "Drum" came again. Except fish performing serial flash exercise was nothing to see. Until the third time. "Drum!" Several meters ahead us emerged two sharks. This time they rushed for a fish almost as big as they are. Trinity we swept overhead and lost to the reef.
This time in Raja Ampat (Papua Barat, Indonesia) I didn´t take any photo. It was so fast. Other times I made several photos of sharks but not yet of hunting ones.